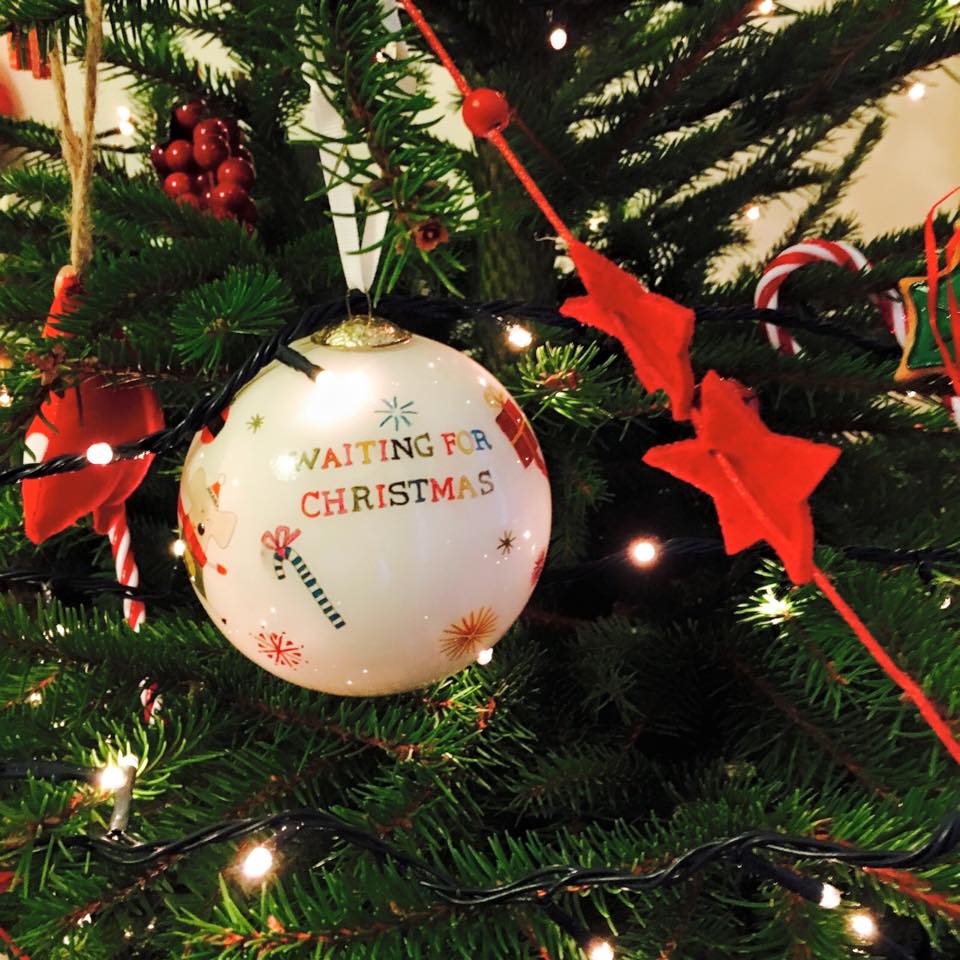 Waiting for Christmas has to be one of my favourite pastimes, it is safe to say that as a family we may be what some would say to be a little Christmas crazy. There's no denying it, Mr H and I were huge fans of the festive period even before Lil G arrived, only now we get to see it through our gorgeous boys eyes which makes it even more magical.
Christmas preparations are under way in the Hargreaves household and in a bid to spread some festive cheer I thought I would share our little family top ten days out with you. I don't know about you but I find so much joy in the planning, and if truth be told we all get so excited looking back at our photos from the previous years and making plans for the weeks ahead. One thing so many of our friends forget and are then disappointed in, is that most events need to be booked up before December 1st arrives, some as early as October.
It really is the most wonderful time of year. A time to be thankful, a time for giving and lets not forget the the opportunity to spend time together as a family. Our preparations start way back in the summer when together with our boy we start to clear out old toys. We begin making room in his play room, taking the toys he has grown out of to local charity shops so that other children can enjoy them just as much he has. We've done this each year since he was old enough to understand and I am so proud of him for embracing it and not getting too attached to his toys.
And so back to our plans… In the past we have been guilty of squeezing too many days out into the diary during December as well as meeting too many Santas. Because after all there is only one right? That would be my first tip, don't book in too many trips. I think that one each weekend in the run up to Christmas Eve is just about right.
I'm a little sad that we don't have more days out planned this year, but there is a really good reason for that. We're keeping the run up to Christmas quite low key and that's because we are off to Disneyland Paris late December. How blooming exciting. Honestly I cannot wait to see the parks all dressed for Christmas, Lil G on the other hand is excited to see his favourite characters Mickey and the Goof in their Christmas suits and Santa of course who will be making a little stop over in Paris as we are there. Coincidence you might say.
And so, here are our favourite days out during the festive period, all tried and tested…
1.Keele Christmas Tree Farm – I love that you can make this a little adventure and its free apart from the cost of purchasing a tree or three if you live in our house. Each year we pick out our trees from the farm and it really is such a lovely day out as a family. We always end up coming home filled with excitement and ready hot chocolate and our first festive movie.
2.Trentham Gardens – we have visited the Santa at Trentham each year and have never been disappointed. As the Santa is so popular here there are two different places in which you can meet him, one of which is already sold out however the one pictured below is on a first come first served basis. Our gorgeous boy always gives their Santa the thumbs up and I am so pleased to say that he is the face of their What's On page this year. He is so excited to be going back to see him again this. His little face is a picture and a moment I never want to forget.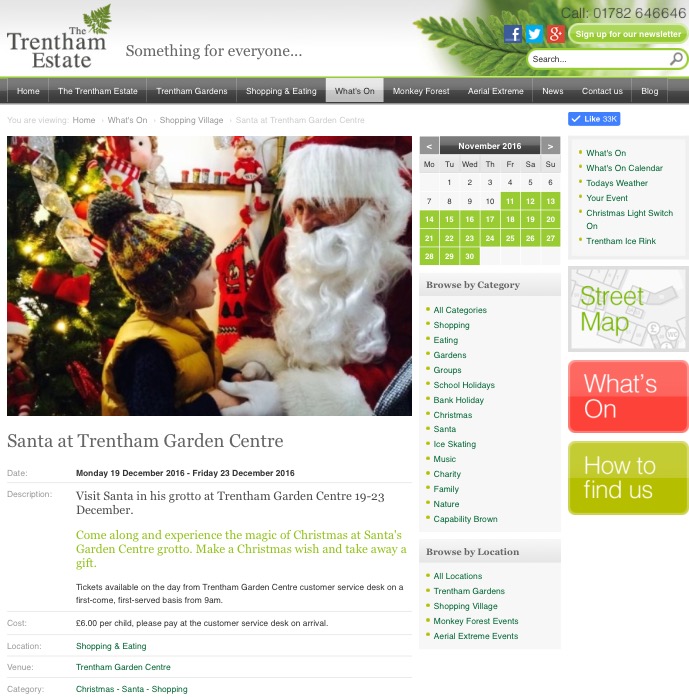 3.Manchester Christmas markets – a must visit. We make a point of visiting each year with and without our little man. We all love the atmosphere as well as the food and drink. There are some really fantastic attractions for little ones including an ice rink, helter skelter and themed bars such as the Oust House with log fires which welcome families. Although it does get extremely busy so I would plan an early visit.
4.Of all the trips we make the Santa's Winter Wonderland at Snowdon Tamworth has to be Lil G's favourite. For £56 as a family of 3 you are treated to a 90 minute festive treat including a snow trail, Santa show and a trip to see Santa's real reindeer. It really is a fun 90 minutes, the snow trail is our boys favourite part. You can also write your letter to Santa and enjoy a Starbucks on the way out. An eggnog latte to end a magical time.
5.Churnet Valley Railway Santa Express – whilst we haven't done this recently we really had a wonderful time. One to be booked in advance so do head on over if it is something you are considering. We took a train at 4pm which was dusk and I have to say it added to the magic. It was like a scene out of Harry Potter, with the Hogwarts express pulling in to the station. It is also one of those events where you must include the whole family, we invited Nanny and Grandad along and I am so glad that we did. The hour long trip, complete with mince pies, sherry and a gift from Santa was wonderful.
6.Breakfast with Santa at Bridgemere Garden Centre – again something we have done for three years. Although this year we have decided against it, that is only because we tend to book this for Christmas Eve which wouldn't fit into our schedule this year. The breakfast is yummy and the meet and greet with Santa is really personal which our gorgeous boy loved. I can still picture his face that first time he saw Santa approaching him, picture perfect.
7.Blithbury Reindeer Lodge – You know Dasher and Dancer And Prancer and Vixen, Comet and Cupid And Donner and Blitzen. Well, if reindeer and a whole lot of Christmas tradition is what you are looking for then you must visit Blithbury. Stories by a log fire and a little cookie decorating followed by Elf School which really was fantastic. Its all in the detail and Blithbury didn't leave any of that to chance. Sadly the events have completely sold out now, I would however put them in your diary to book next October. Home to the largest working reindeer herd you will be sure to fall in love with a reindeer or two, some have even starred in the movies!
8.Christmas Pantomime at The Regent Theatre – this will be our third year and what a joy it is.  So many laugh out loud moments and a lovely tradition which we all look forward to each year. I have never laughed so much. Our 5 year old really enjoys the show and last year we treated Nanny who shed a little tear as she loved the show and what it stood for so much. We also make this our last festive outing and book onto the Christmas Eve Matinee. Perfect way to end the build up to Christmas Day.
9.Santas sleepover at Alton Towers – we have been to this event twice now and I have to say it really is value for money. Theme park tickets, waterpark tickets, a sleepover and the magic that is making your way through a maize to find Santa in his little house is indeed magical. You won't be disappointed.
10.National Forest Adventure Farm – Winter Wonderland. This place never disappoints. There is always so much effort and wonder put into all of their events. We have visited so many throughout the year that I simply cannot recommend this place highly enough. With so many activities to take part in across the day you could spend hours here as the schedule is duplicated throughout the day as well to ensure no one misses out. The staff are always obliging and so full of enthusiasm and sheer joy that you can't help but get swept up in the magic.
I hope you have enjoyed reading about our top ten festive days out. We have certainly enjoyed trying them all out over the years. Are there any you would add? I guess it is time to start the countdown. We have picked out our Christmas Trees at the farm, I have been madly pinning ideas for our Elf buddy's return on December 1st and in a few days it is our first visit to see the big man himself, Santa! I am really excited to see how this festive season looks for our little family, I'm hoping for it to be extra special this year.
I hope you have a truly wonderful Christmas time.
KA x